MENTORING
At a certain point, lessons and technical skill building do not meet all the needs of the serious artist. I offer professional mentoring for those who are looking to turn their passion into a career (or very consuming hobby!), or are preparing to apply to a competitive program or institution. My mentorship program is an expanded set of offerings geared towards laying the foundation for professional success. This includes:
Continued technical training, skill-building, and studio practice

Nuanced and challenging critiques of your work, both in process and upon completion.

Support in developing your artistic identity, style, and vision.

Materials and techniques, including:

Best/archival practices

Historical techniques and traditional materials

Mixed media and experimental materials

The use of power tools and building materials

Making panels, mounting linen, priming, prepping

Framing (building and joining, glazing, mounting, etc)

Hanging a show

Professional Practices:

Portfolio development

Writing (yes, you need an artist statement!)

Web presence

Records and inventory

Networking & communications

Approaching galleries and maintaining relationships

Preparing and mounting an exhibition

Application assistance, if relevant

Personal support in:

Creative exploration, sketching, journaling

intellectual/research pursuits related to your work

confidence building/imposter syndrome

various existential crises suffered in relationship to your work (experienced by all artists)

moments of both doubt and elation!
Mentoring Fee: $85 per hour*
*For long-time mentees who have built a substantial and varied skill set, the option to trade studio assistant work for mentorship may be available.
Please email me for availability.
Virtual mentoring: A flat monthly fee for virtual feedback, meetings, critiques, digital drawing/painting edits and advice (via iPad layovers), or writing/editing work.
Fees: $150 per month for feedback, critiques, and digital drawing/painting layovers averaging 2-3 hours per month.
$250 per month for unlimited virtual coaching.
Please email me for availability.
Mentee Testimonials and artwork
TESTIMONIAL:
Before I met Robin, I was in a season of my education during which I struggled to finish any drawings or paintings. I lacked the technical skill to bring my ambitious ideas to life and I lived in a cycle of discouragement. As my teacher and mentor, Robin taught me the foundations of technical artistic skill and an entirely new way of seeing that gave me a freedom of expression in my work. Instead of shying away from the challenges of art-making, I learned a variety of methods and approaches that are now at the core of my creative process. My work began to improve rapidly, along with my confidence.
Beyond her prolific abilities as a teacher, Robin generously offers insight and practical tools for life as a working artist, from applying to residencies and writing grants to toning and building my own surfaces. She is an expert in all areas of her craft.
With Robin's continued mentorship and example, I've seen that it is not only possible, but realistic and deeply fulfilling to pursue a professional career in Fine Art.
--Carly
Mentee (drawing, painting)
https://www.carltonhopepickett.com
TESTIMONIAL:
There are hundreds of teachers who are average. There are teachers who are really good at their jobs. There are teachers who are outstanding. And then there is Robin Cole. She falls into the category of the supremely gifted. She is not only a remarkable and highly accomplished artist with countless insights, suggestions, and techniques to offer, but brings to the table communication skills far superior to those of most artists. Another teacher once told me that if you cannot verbalize a concept, you don't truly understand it. With backgrounds in both English and fine art, Robin knows how to thought-form verbally and visually. This is invaluable to any artist who truly wants to express themselves and fully understand what it is they are expressing.
Before I met Robin, I wasn't sure what my art was about and didn't know how to talk about it. My notions were vague and, as so often is the case with artists, when I explained my concepts, there was a disconnect between them and the images. In addition to offering loads of technical advice, Robin also helped me find my artistic voice. I learned to discuss what my work is actually about and began to see common threads in my work and to develop them further. She also helped to point out my unique qualities as an artist. This kind of self-knowledge is critical to the profession. It also helps with grant writing, which she is very skilled at.
Robin is an empathic teacher and is highly intuitive. These traits greatly help the cause of coaxing out a student's inner artist. Study with her, it will be one of the best decisions you have ever made.
--Gavin Gardner
Mentee (drawing, painting, sculpture, writing)
http://gavingardner.blogspot.com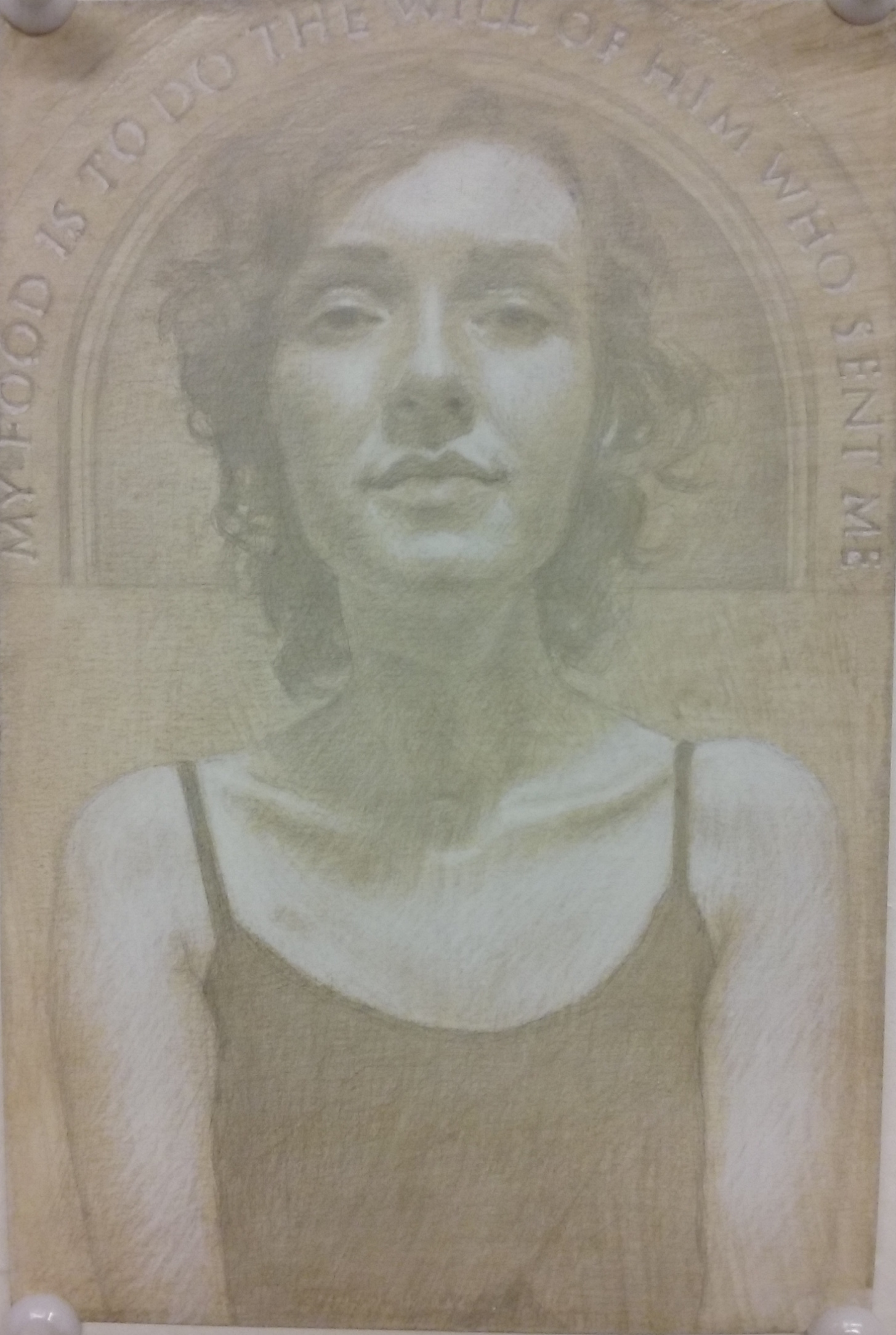 TESTIMONIAL:
Robin is a great artist and teacher. Among professional artists and seasoned educators, she stands with those in the highest ranks as a stellar combination of the two. If you seek understanding, technical mastery, and inspiration, then Robin should be your first choice for mentorship. She has the rare ability to meet her students at all stages of development and give them the timely and relevant advice needed for the next leap. Robin knows and practices the technical knowledge developed by the Renaissance Masters. She is personable, professional, and has a humble attitude. If you are seriously considering a mentorship, do not second guess Robin as your first choice—she is simply the best.
--Daniel Berg
Mentee (drawing)